Kobzar Book Award 2020 Shortlist Announced
The Shevchenko Foundation is pleased to announce the shortlisted titles for the 2020 Kobzar Book Award.
Presented biennially, the $25,000 KOBZAR Book Award recognizes outstanding contributions to Canadian literary arts by authors who write on a topic with a tangible connection to the Ukrainian Canadian experience. Genres include literary non-fiction, fiction, poetry, young readers' literature, play, screenplay and musical. Distinctive to this Award is monetary payment to the winner's publisher, in addition to the winning author.
The jury members this year consisted of: Matt Bowes (General Manager of NeWest Press), Dr. Lindy Ledohowski (teacher, professor and writer – winner of the 2018 Kobzar Book Award), and Nino Ricci (best-selling and award-winning author). Biographies can be found below.
The shortlisted titles for the 2020 Kobzar Book Award are:
The Stories Were Not Told: Canada's First World War Internment Camps, by Sandra Semchuk (University of Alberta Press, 2019)
The award will be presented at a celebration event on Thursday, March 12, 2020 in Toronto.
Kobzar Book Award 2020 Jury
Matt Bowes (he/him) is the General Manager of NeWest Press. An avid film fan, he co-hosts Bollywood is for Lovers, a bi-weekly podcast on Hindi cinema. He has also presented two film series at Edmonton's Metro Cinema Society, a monthly series comparing comic books and film called Graphic Content, and a retrospective on outlaw filmmaker Seijun Suzuki. His critical writing has appeared at The Pulp, Sequential Tart, and Luma Quarterly.
Former teacher and professor, Dr. Lindy Ledohowski completed her Honours B.A. at the University of Manitoba, her B.Ed., M.A., and Ph.D. at the University of Toronto. Her SSHRC-funded doctoral dissertation theorized culture and identity politics in post-multicultural Canada using fifty years of English-language Ukrainian Canadian literature as her key case study. She then completed a SSHRC-funded postdoctoral fellowship at the University of Ottawa before taking a tenure-track post as a professor at the University of Waterloo. Currently she is the CEO of an educational software company, EssayJack, which she co-founded.
As a cultural studies expert focusing on issues of ethno-national identities in contemporary Canada, she writes on postcolonial, ethnic, racial, diasporic, and transnational concerns in her scholarly publications, such as her co-edited book Unbound: Ukrainian Canadians Writing Home with the University of Toronto Press that asks questions about what it means to be Ukrainian in Canada today and won the nation-wide Kobzar Award in 2018. An award-winning scholar, educator, and entrepreneur, Dr. Ledohowski focuses on giving back and mentoring as much as she can and served two terms as a Governor in Council appointee on the Board of Trustees for the Canadian Museum for Human Rights from 2011 until 2019.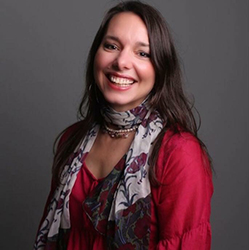 Nino Ricci's first novel, Lives of the Saints, garnered international acclaim, appearing in 17 countries and winning a host of awards, including the Governor General's Award for Fiction.  It formed the first volume of a trilogy that was adapted as a miniseries starring Sophia Loren.
Ricci is also the author of the novels Testament, winner of the Trillium Award, and The Origin of Species, which earned him a second Governor General's Award, and of the biography Pierre Elliott Trudeau, part of Penguin's Extraordinary Canadians series. His most recent novel is Sleep, winner of the Canadian Authors' Award for Fiction.
Ricci holds an honorary doctorate from the University of Windsor and is a past president of PEN Canada. In 2011 he was appointed a member of the Order of Canada. He has taught at institutions across North America, including Colorado College and Princeton University, and is currently the inaugural holder of Western University's Alice Munro Chair in Creativity.